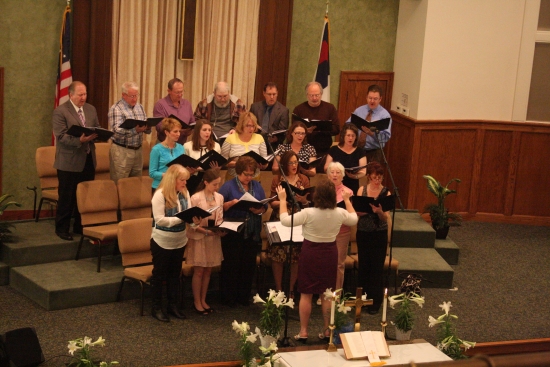 The FBC choir is about more than just learning songs and performing them for the Congregation. It also is a great time of fellowship and fun. It provides an opportunity to share a common love for music and most importantly to share the love of the One who make us want to sing. We are blessed to have a gifted choir director who selects thoughtful pieces of music that reflect that love for our Lord and Savior, Jesus Christ. Song selections cover a variety of styles and genres. The choir sings most Sundays with some time off in the summer. It has been a long standing tradition for the FBC choir to sing several selections at the annual Gospel Sing during the Apple Festival. The choir also delights the congregation each Christmas with a collection of arrangements to celebrate the birth of our Savior.
Rehearsal Schedule
Regular rehearsal meets Wednesday evenings from 7:15-8:30 PM. Additional practices are scheduled occasionally for special events.
Requirements
If you have a love for Jesus and desire to express that love through music in song, then there is a place for you in the choir. An ability to read music and parts, though helpful, is not necessary. And although the commitment to practices should not be taken lightly, it is not a requirement. Please prayerfully consider joining us.
Mission
The mission of the FBC Choir is to glorify our Lord and Savior, Jesus Christ through singing and praise to Him. We seek to honor Him not only with our voices, but with our lives and hearts as well. "May these words of my mouth and this meditation of my heart be pleasing in your sight, Lord, my Rock and my Redeemer." Psalm 19:14 NIV
Contact information
If you are interested in joining the choir or have any questions please
contact Lynn Brady
.