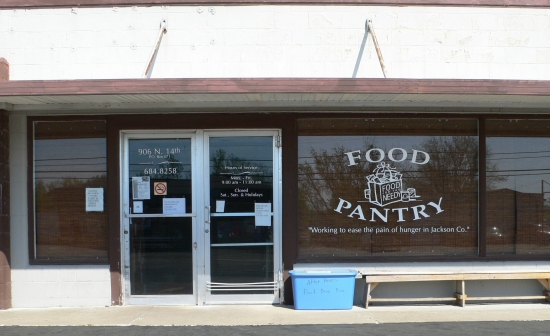 Donate at: PO Box 671
Contact us at: 618-684-8258 or
murphysborofoodpantry@gmail.com
Murphysboro Food Pantry, Inc. is an independent 501(c)3 non-profit organization.
The food pantry is in need of volunteers to do the many tasks that need to be done. Just two or three hours, one day a week would be helpful. Your time and generosity will be a blessing as well as a wonderful gift to someone less fortunate
.
Since moving into our current building, which we're proud to say was paid for in barely two years thanks to the generous donations of those in the community, we've expanded our services tremendously. In 2008, our last full year in the old location, we provided food for 16,646 individuals. As of 2013, those numbers had grown to 36,410 – a 219% increase! But numbers alone don't accurately reflect the whole story.
Because we enjoy such amazing support from local individuals, schools, churches, organizations and businesses we are not only serving a lot more individuals each year – but we're able to provide substantially larger boxes of food to each family that visits the Pantry
In 2013, we distributed approximately 254 TONS of food to more than 9300 households. The families we serve come from literally every town and township in Jackson County.
Since our move to our new (and current) location in September 2009, we've made even more improvements. Due to a successful grant bid, we were able to install a 144 square foot walk-in cooler that makes inventory management much easier. We've grown our volunteer work force from just a handful of volunteers to approximately 50 individuals who always seem ready to help in whatever way needed. Many of those work several days a week to ensure that our clients receive the best possible service. We've designed and implemented a one-of-a-kind client computer program that allows us to maintain service records on our clients and also to capture information useful in food procurement planning, future budget planning, and even grant requests. We've grown to be the largest USDA food pantry in all of Jackson County and also become known for the outstanding client service as well as for the consistently generous boxes of food that are distributed.
As of Nov. 2014 we are just finishing a year long grant project. Walmart provided funds for us to install a large walk-in freezer in a previously under utilized warehouse space. As the numbers we serve continue to grow, so does our need to be able to receive and store frozen products so that we can better manage and control our food inventory.
A future goal is to collaborate and engage more fully with other area churches throughout the county. We want to educate them on our work and our needs in the hope they will appreciate the services we provide the community and will want to budget monetary support which would allow us to continue to grow the scope of our work.
We're very proud of our building, our volunteers, and our ability to provide nutritious food to so many needy individuals each year. We thank all who donate for providing us with the means to do this and encourage those who have not yet donated to this worthy cause, to consider sending donations, large or small, as all are greatly appreciated and needed.
(As reported by Megan Austin, President, Board of Directors)
Other Board of Director Members:
Byron York, Vice President
Kathy Blackwell, Secretary
Elizabeth Williams-Fager, Treasurer
Ralph Bastien
Doug Daggett
Philip Fager
Cherie Green
Jane Kaminga
Jennifer O'Donnell
Ken Peterein
Deb Severa